My 240th recipe, "Potato Stuffed Mirchi Bajji | Milagai Bajji | Banana Pepper Fritters", a classic Indian tea time snack. I absolutely love beaches. A couple of years back I made a visit to the famous Miami beach and I had a blast there. From that day I am very eager to make my next visit. However beach is not something new to me. I grew up very close to the famous Marina beach in Chennai. It was just a stone's throw away from my house. Though I am so fond of it, I rarely visited it 🙁
If you stay close to a tourist place, you might not have a great interest in it. I realize how true that statement is. Even though I visited Marina beach only rarely there is one thing I never used to miss during my visits. The mirchi bajji they used to sell in the beach was one of my favorite snacks.
My mom made all kinds of bajji at home like onion, potato, etc. However she never used to make the elusive mirchi bajji. So the only chance I would have to taste one is during the visits to marina. The mild spiciness and the crunchiness from the chili perfectly matches the crispiness from the fried batter making it one heck of a snack.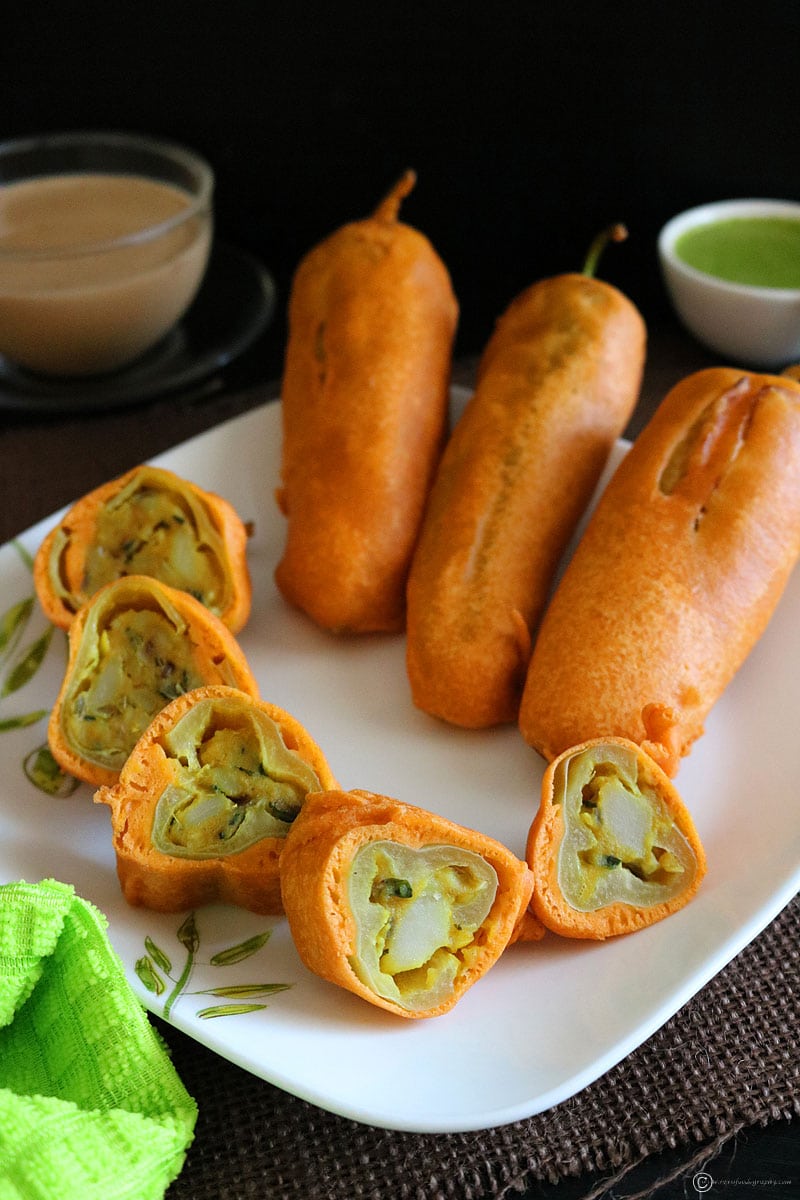 Since I do not get the small bajji milagai here, I chose to make use of the banana pepper. And it seemed like it had a large room for a nice stuffing. Thinking that a potato stuffing will only add more deliciousness to an already delicious snack, I went ahead with that idea. At the end, the potato stuffed mirchi bajji was truly more than what I had anticipated. It turned out to be the perfect snack for a cool fall/winter evening 😉
Potato Stuffed Mirchi Bajji
Mirchi Bajji
Mirchi Bajji is a super delicious Indian tea time snack made from chili dipped in a besan flour batter and deep fried until nicely golden and crispy.
Ingredients
5

Bajji Milaga / Banana Peppers

Oil

- For frying
For the stuffing
2

tsp

Oil

1/2

tsp

Jeera

1/8

tsp

Asafoetida

1/2

large

Onion

(finely chopped)

2

cloves

Garlic

(finely chopped)

1/2

tsp

Salt

(adjust per taste)

1/8

tsp

Turmeric powder

1/4

tsp

Red chilli powder

1/2

tsp

Coriander powder

3

medium

Potatoes

(boil, peel and roughly mashed)

2

Tbsp

Coriander leaves

(finely chopped)
For the batter
1

Cup

Besan Flour

1/4

Cup

Rice Flour

1/8

tsp

Asafoetida

1/8

tsp

Baking Soda

1/4

tsp

Salt

1/4

tsp

Red Chilli powder
Instructions
Heat a large pan with oil and add the jeera. Once it starts to change color slightly, add the asafoetida. Then add the finely chopped onions and garlic. Saute until they turn translucent.

Now, add the salt, turmeric, red chilli, coriander powder and saute for about 30 secs. Add the mashed potatoes to the pan and saute until everything is combined well.

Finally, add the chopped coriander leaves, mix well and turn off the flame. Leave the mixture to come to room temperature.

While the stuffing is cooling, we can clean the chili. Make a slit in the middle of the chili. Using a spoon or fingers carefully remove the seeds. Take care not to break the chilli.

Once the stuffing is at room temperature, take a couple of tablespoons of that mixture and stuff into the chili. Use your fingers to push the stuffing and seal the chili tightly. Keep aside.

For the batter, in a large mixing bowl, add all the ingredients listed under "For the batter". Mix well until combined. Add water little by little and mix well to prepare the batter as shown in pic. I added about 3/4 Cup of water.

Heat oil in a kadai for deep frying. Once the oil is hot, turn the flame down to medium-low. Take one of the stuffed chili, dip it into the batter and make sure that the batter evenly coats the chili. Gently slide it into the oil and fry until nicely golden.

Drain excess oil on a paper napkin and serve hot with a side of chutney.
Notes | FAQ
- Traditionally, bajji milagai, a South Indian Chili which is not spicy is used for this recipe. Since I could not find it here, I used banana peppers, which are similar.
- Make sure to remove all the seeds of the chili. The seeds carry the most spiciness in the chili.
- Adjust the quantity of batter and stuffing based on the size of your chili.
- The batter should not be too thick or thin. If thick, it will form a thick coating around the chili. If thin, the bajji will absorb more oil.
- Adjust the red chili powder quantity as per your taste.
- While deseeding the peppers, be sure to wear a glove or use a spoon.