My 218th recipe, "Avarakkai Sambar | Broad Beans Sambar", the quintessential South Indian Kuzhambu (gravy). Sambar is a staple of my household. And I can safely say that it is for almost all of South Indian households. I have sambar atleast once every week and this has been going on for as long as I am aware of.
While there are numerous variations of sambar, my mom usually made 3 different sambars for lunch. One is with brinjal/drumstick, the other one is with Okra and this sambar with avarakkai (broad beans). Though the basic recipe is the same, there are subtle differences in the process and the spices added. Avarakkai Sambar is my least favorite since I hate avarakkai. However, my mom used to make it frequently since my dad used to love it. And now since RK loves it too, I am forced to make it frequently too.
While I already posted the okra sambar recipe on my blog, this avarakkai sambar is comparatively spicier and thicker in consistency. In my opinion, avarakkai doesn't taste good on its own and needs all this extra pampering. The special blend of freshly dry roasted and ground spices is the one which does the trick in this recipe. It is super aromatic and flavorful. Add it to a bowl of white rice and you would never even need a separate side dish 🙂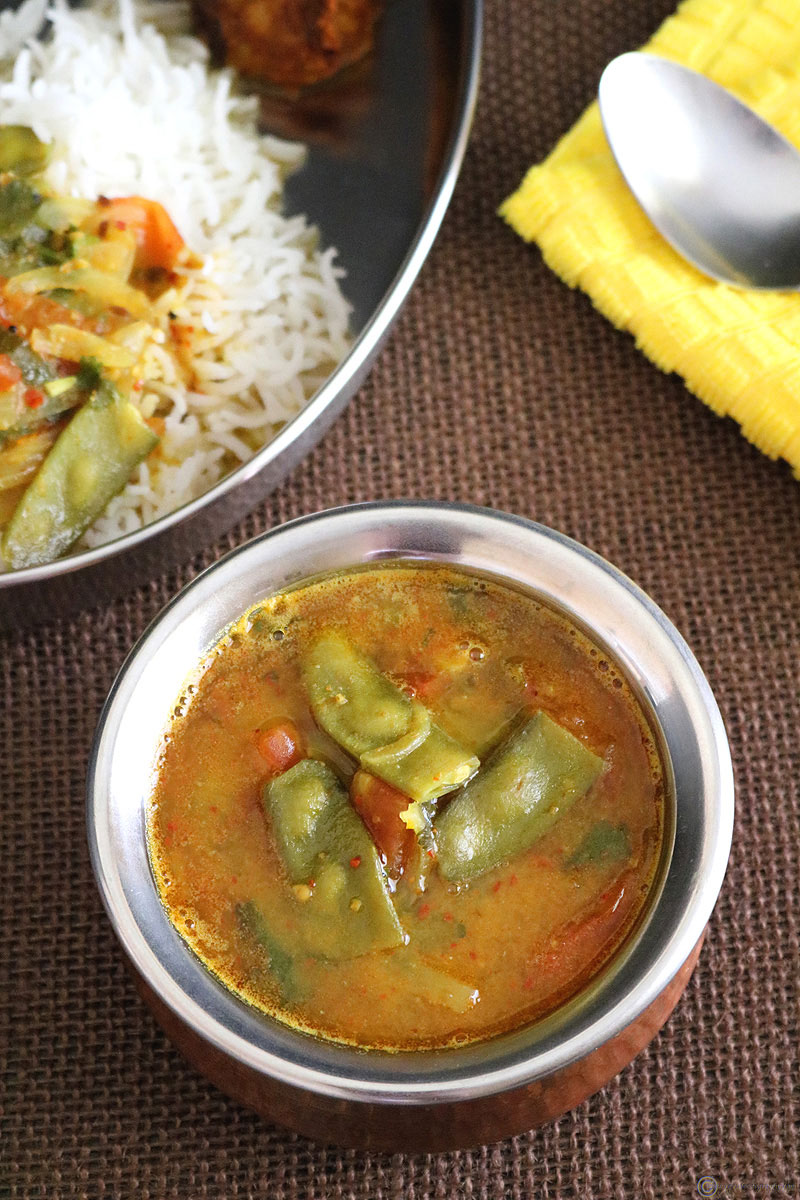 Avarakkai Sambar
Avarakkai Sambar
Avarakkai Sambar is the quintessential South Indian gravy made with dal, veggies, tamarind and freshly ground Indian spices. Perfect with white rice.
Ingredients
1/3

Cup

Toor Dal

5

cloves

Garlic

1/4 + 1/8

tsp

Turmeric

a small pinch

Asafoetida

3/4

tsp

Tamarind

(tightly packed)

20

Avarakkai | Broad Beans

1

sprig

Curry leaves

1

Green Chilli

(Slit)

1

small

Onion

(Chopped)

1

large

Tomato

(Chopped)

1 1/2

tsp

Salt

(Adjust as per taste)

1

tsp

Sambar powder

1/2

tsp

Sugar / Jaggery

Coriander leaves

- For garnish
To dry roast and grind
2

Dry red chilli

1

tsp

Coriander seeds

1/4

tsp

Fenugreek seeds

1/2

tsp

Jeera
To temper
2

tsp

Oil

1/4

tsp

Mustard

1/2

tsp

Broken Urad dal

1/2

tsp

Jeera

a large pinch

Asafoetida
Instructions
First pressure cook the toor dal along with garlic, asafoetida, 1/8 tsp turmeric and sufficient water for 3 whistles or until done. Once the pressure subsides, mash it to fine paste and keep aside until use.

Soak the tamarind in 1/4 cup of water for about 10 mins and extract the juice and keep aside until use. Also, chop the veggies and keep aside. While chopping the avarakkai, remove the thread like part from the side of it.

Heat a pan in medium flame and dry roast all the ingredients listed under "To dry roast and grind" until the coriander seeds starts changing color. Turn off the flame and transfer to a plate let it come to room temperature. Now grind it into a coarse powder. Keep covered until use.

Now, heat a pan with oil, add in the mustard and once it splutters, add all the other ingredients listed under "To temper". Once the urad dal turns golden, add in the curry leaves, green chilli, onion and saute until onion turns translucent. Follow it by tomato and saute for 30 sec. Then add the prepared tamarind extract along with about 2 cups of additional water and mix well. Leave it to cook.

When the sambar comes to a rolling boil, add in the avarakkai along with salt, 1/4 tsp of turmeric, sambar powder and mix well. Turn the flame to low-medium and let it continue to cook. Once the avarakkai is half cooked, add the mashed dal, the prepared coarse powder and mix well. At this stage check for the consistency of sambar and add more water if needed.

Let the sambar simmer for few more minutes until the avarakkai is fully done. Finally, add the sugar/jaggery and coriander leaves, mix well and turn off the flame.

Serve hot with rice and any spicy South Indian side.
Notes | FAQ
- Adding sugar/jaggery is totally optional, but it will help round out the flavor of the sambar.
- Adjust the quantity of tamarind based on the size and tanginess of the tomato.
- If you feel the sambar consistency is thick, you can add some water, let it come to boil and turn off. If its too watery, let it simmer for extra time until your desired consistency is reached.